Sponsored
Contact dealer for
Test Drives
Offers & Exchange
EMI Options
Insurance
Tata Tigor EV
| | |
| --- | --- |
| Price | ₹ 11.99 Lakh onwards |
| Transmission | Automatic |
| Fuel Type | Electric |
| Seating Capacity | 5 Seater |
Tata Tigor EV Price List
Find a list of all 4 electric versions of Tata Tigor EV. This table includes on-road price which covers all costs like RTO and Insurance.
Filter By
Fuel type, Transmission and Seating Capacity
Electric
Automatic
5 Seater
Tigor EV Versions
Ex-showroom Price
Compare

Electric

₹ 11.99 Lakh

Key features: Steering Adjustment, Average Fuel Consumption Display, Front Only Power Windows

Electric

₹ 12.49 Lakh

Key features: Integrated Music System, Steering Adjustment, Average Fuel Consumption Display, Front & Rear Power Windows

Electric

₹ 12.99 Lakh

Key features: Push Button Start, Steering Mounted Controls, Reverse Camera with Guidance Parking Assist, Integrated Music System, Steering Adjustment

Electric

₹ 13.14 Lakh

Key features: Push Button Start, Steering Mounted Controls, Reverse Camera with Guidance Parking Assist, Integrated Music System, Steering Adjustment
Tata Tigor EV Price in Popular Cities
Tata Tigor EV Expert Review
2021 Tata Tigor EV First Drive Review
Tata has launched it's second electric vehicle, the Tigor EV, for private users and we have driven it comprehensively.
Read More
Tata Tigor EV Expert Review
2021 Tata Tigor EV First Drive Review
Compact, easy to drive EV
Significant savings in the long run
Limited range
Expensive compared to ICE Tigor
The electric motor powering the Tigor EV comes from the same Ziptron line of tech that we have seen in the Nexon EV. But here you get less power and torque at 75bhp and 170Nm but then again the Tigor is a much lighter car and its usage is even more urban focused so with that in mind these power figures seem alright both on paper and on the road. The acceleration at low to medium speeds is good and even though you will not feel a strong shove as you go full throttle, progress is more than adequate for city use.
We didn't get a chance to test the Tigor EV on the highway during our brief first drive but we did manage to test it for performance using our precision timing gear. Zero to sixty was dealt with in just 5.32 seconds and the Tigor EV will complete the zero to 100kmph sprint in an equally impressive 12.63 seconds. The 26-kWh battery pack allows for decent if not great straight line performance but then this car offers enough punch around town and for reeling in those gaps in traffic, the performance on offer is more than enough.
So what about charging times? Well, you can charge your Tigor EV either using a standard 15amp plug or a 25kW DC fast charger. Now it will take you around an hour to charge the battery from zero to 80 per cent using the fast charger, however, it will take at least 9 hours if you end up using the standard 15amp plug. Get the battery up to 100 per cent and you are good for a claimed 306kms of range but bear in mind the fact that in real world, with changing traffic conditions and speeds you can expect at least 240kms of range.
Now Tata Motors is offering a warranty of 8 years and 1.6 lakh kms on the battery pack and the electric motor which is great. And before you figure, the standard warranty on the vehicle stands at 3 years and 1.25 lakh kms. Couple this with a low maintenance drivetrain and you can expect a car that is very affordable to own and run. More importantly, the Tigor EV has also managed to score a commendable 4-star rating in the Global NCAP crash test, making it one of the safest compact sedans out there.
There isn't much difference between the electric and the petrol powered Tigor when it comes to ride and handling. That said, the steering definitely has more weight to it and for the most part it's really decent with a direct feel to it and no slack off-centre. In terms of ride quality, the Tigor EV remains unfazed over bad roads and for a compact sedan it's quite comfortable. Most of the bumps and irregularities are absorbed nicely and one would feel only the sharpest of potholes filtering into the cabin. At highway speeds, the ride gets even better and the stability is impressive right till the top speed which is around 118kmph.
Like the Nexon EV, the Teel Blue color is exclusive to this electric version and you also get gloss blue colored trim below the grille, around the fog lamps and on one portion of the wheels which, by the way, are actually full wheel covers designed to look like alloys.
Inside, not much has changed except for the level of equipment you get. Well now you get a rotary dial for the gearbox instead of a traditional lever and a new instrument cluster which has been redesigned for the electric version. Besides that, you get matching blue surrounds for the AC vents and the seats have a new cool pattern as well.
As is the way with EV packaging, the battery pack has been put under the boot floor and because of that Tata has had to reposition the spare wheel to sit vertically inside the boot. Now as you can see this placement eats into the boot space and as a result, the capacity is now reduced to 316 litres though you can always remove the spare wheel if you absolutely need to use all of the boot space for a short trip or something.
In terms of variants, the Tigor EV is being offered in three variants: XE, XM and XZ+ with prices starting at Rs 11.99 lakh ex-showroom. Now this base price doesn't represent particularly great value because the base variant is missing quite a few essential features. Sure it gets modern equipment like climate control, a digital instrument cluster and LED taillights but on the other hand, you don't get basic features like power windows at the back, alloy wheels or even a music system. The top-spec XZ Plus is definitely the most value for money variant if you ask me. You get all the good stuff such as push button start, a nice Harman music system, cooled glove box, height adjustment for the driver's seat, rear parking camera, rear armrest, auto folding wing mirrors and some more.
The Tigor EV's value proposition comes under scrutiny once again when you consider the fact that the entry-level Nexon EV is a couple of lakh more expensive and for that you are getting a much superior electric vehicle. In comparison, the Tigor is less powerful, slower, has a smaller capacity battery pack and effectively marginally less range than the Nexon's ARAI claimed 312km. However, it is significantly lighter than the Nexon and the weight advantage could translate to a better real world range among the two. Naturally, the smaller Tigor EV will also be easier to drive and park around town and for anyone who wants to switch to EVs, there is no better budget car at the moment.
Pictures by Kaustubh Gandhi
Tigor EV FAQs
Tata Tigor EV runs 306 km in a single charge.
Tata Tigor EV takes about 8 Hrs for lower range batteries. The higher range batteries take 8 Hrs to charge.
Tata Tigor EV is a 5 seater car with 4 doors.
Quick Facts about
Tata Tigor EV
Tata Tigor EV, a CompactSedan, is available from ₹ 11.99 Lakh to ₹ 13.14 Lakh in India. Tata offers the latest Tigor EV in 4 versions in India. The base model XE starts at ₹ 11.99 Lakh in Delhi and the top model XZ Plus Dual Tone priced at ₹ 13.14 Lakh in Delhi. If you are looking for 5 seater car then you should consider Tigor EV.
Tigor EV comes in 4 Electric version(s).
The Electric version comes with 26 kWh battery and generates bhp power. It can drive 306 Km on full charge.
Tata Tigor EV comes in 3 colors which include Signature Teal Blue, Black , Signature Teal Blue, Daytona Grey.
Read More
Read Less
Similar Cars To Tata Tigor EV
Tata Tigor EV Colors
Black , Signature Teal Blue
Tigor EV Specifications
Note: Specifications for Tigor EV XE have been mentioned
Transmission
Automatic - 1 Gears, Sport Mode
Time for 0-100 kmph Acceleration
12.63
Engine
Not Applicable Cylinders Not Applicable, Not Applicable Valves/Cylinder, Not Applicable
Engine Type
Permanent Magnet Synchronous Motor paired to High energy density Lithium-ion battery pack
Electric Motor
1 Permanent magnet synchronous Placed At Front Axle
Peak Motor Performance
74 bhp 170 Nm
Battery
26 kWh, Lithium Ion,Battery Placed Under Rear Seats
Battery Charging
8 Hrs @ 220 Volt
Others
Regenerative Braking, Pure Electric Driving Mode
Steering, Tyres, & Suspnsions
Steering Type
Power assisted (Electric)
Minimum Turning Radius
5.1
Suspension - Front
Independent MacPherson Strut with Coil Spring
Suspension - Rear
Twist Beam with Dual Path Strut
Tyres Size - Front
175 / 65 R14
Tyres Size - Rear
175 / 65 R14
Size, Weight, & Dimensions
Bootspace / Dicky Capacity (L)
316
Ground Clearance (mm)
172
Tata Tigor EV Videos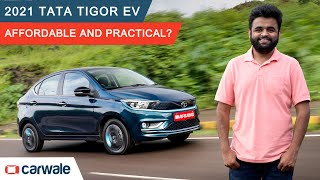 2021 Tata Tigor EV Review | Really Affordable and Practical? Performance vs Tata Nexon EV | CarWale
09/08/2021
Tata Tigor EV News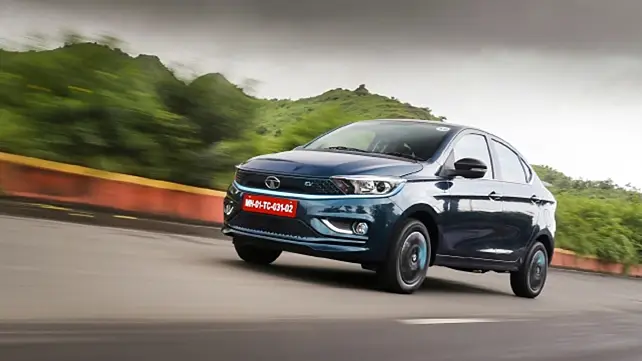 Tata Motors to have 10 EVs in the line up by 2026
by
CarTrade Editorial Team
These EVs will be based on a brand new platformorm
Tata Tigor EV manages to score four-star in Global NCAP crash test
Global NCAP has crash tested Tata's recently launched Tigor EV. This all electric sedan scored four-star in the crash test.
A teaser shows off the new Tigor EV with Ziptron
Tata has released a teaser video showing off the new Tigor EV with a Ziptron badge on the boot lid. This all-new electric vehicle will be powered by Ziptron technology which is said to improve power output of the Tigor EV.
Tata Power to provide EV charging solutions for Lodha projects
Tata Power to provide EV charging solutions for Lodha projects
New Tata Tigor EV launched in India at Rs 11.99 lakh
New Tata Tigor EV launched in India at Rs 11.99 lakh
Find New Cars of Your Choice
PRICE RANGE

FUEL TYPE

BODY TYPE

MAKE

MORE
Used Tata Cars
View All Used Tata Cars